Bugatti W16 Pneumatic engine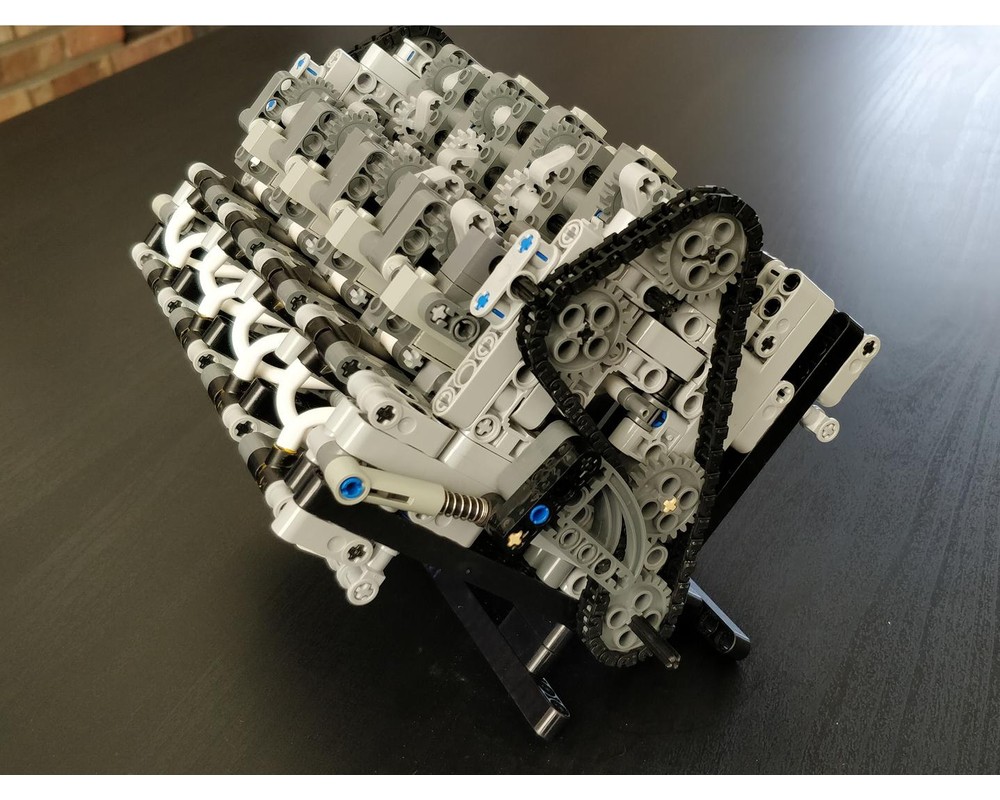 WARNING:
-This is an expert model. Don't build this if you have no previous experience in building and timing pneumatic engines.
-You WILL have to modify parts in order for this engine run.
-Some parts WILL need to be glued for this engine to run.
Technical details:

-Little shy of 1200 parts
-Max rpm measured, currently 540 (read "final testing")
-Length: 26 studs (21cm, 8,25 inch)
-Width: 20 studs (16cm, 6,3 inch)
-Hight: 17 studs (14cm, 5,5 inch)
-Weight: 870 gram (1lb 14oz)
Story Time:
The inspiration:

After the release of the LEGO Bugatti Chiron, I felt kinda disappointed for the lack of a proper W16 engine. Witch in turn gave me the inspiration to design a new pneumatic engine. And knowing the additional design technicality's I felt challenged to actually make it work.
The beginning process:

Having challenged myself into, taking a complicated engine and making it work with the limited amount of options LEGO has to offer, I decided to tell some people about my insane idea. Since some people didn't believe I was able to do so, I had to off course prove them wrong. and here's where the prototyping starts. 
The design process:
Looking back at it now it was a lot easier than I initially expected. after less than a handful of prototypes and about 1,5 hours of work, I managed to come up with a design that is fairly similar to what you see now, however far from finished. The design pretty much went in 2 parts, first I started with the frame for the pistons. When that was done I debated on how to drive the switches, Initially I wanted to use a sliding design But due to size constraints I was forced to use a camshaft design.
The build process:

After ordering all the parts I got to work on the final design. (believe it or not I didn't have a full design before ordering parts) So I used the basis of the prototypes, improved upon them, and finally find out a way to merge the switches with the cilinders without it looking like it was just "stuck on top of there". But oh boy then came the biggest challenge.... the pneumatic hose. man that was a real mental challenge, Just try it for yourself: 16 cilinders under 4 different angles on the crankshaft, 2 rows of 4 switches, a really small space to work within, and to top it all of If you make a mistake you'll have to take half the engine apart in order to fix it.
Timing the engine:

Now if you think watching the finals of the super bowl is stressful you should imagine this: I finally finished the engine to the point of timing the switches, and with the first test the engine ran in 2 different directions.(you can actually see this test go wrong in the video) After some investigation I luckily figured out I didn't wire the pneumatic hose improperly, instead It was just a matter of having 2 switches switch on the wrong moment. so little tweaking of the camshaft did the trick.
Final testing:
Then off course there is the final test and the o so happy face I made when the engine first ran. Man what a relief, and with a bit of optimizing I managed to get a top rpm of 540 for now. (When creating the instructions I realized I made a mistake fatal for getting high rpm. I DIDN'T drill out the first pneumatic inlet, so i was still restricted to the tiny hole lego puts in their parts rather then the physical limit of the engine.
The building instructions:

Honestly the building instructions where an afterthought. When I started I had only the intention to create an amazing piece of engineering, and filming it for everyone to see online.
So how come these instructions? Well I have tried before to create instructions without any succes, so I thought lets come back to that but this time learn the software and make a successful instruction for everyone to use.
But what about the price? Lets be honest, designing a machine like this is no easy task. And on top of that I don't want everyone to just try to build this only to figure out they don't have the technical knowhow to get this engine to work. In other terms: I want to demotivate the people that are not determined.
IMG_20180820_183723
by
Marti Groenhof
, on Flickr
IMG_20180820_183800
by
Marti Groenhof
, on Flickr
IMG_20180820_183823
by
Marti Groenhof
, on Flickr
IMG_20180820_183841
by
Marti Groenhof
, on Flickr
IMG_20180820_183948
by
Marti Groenhof
, on Flickr
IMG_20180820_184329
by
Marti Groenhof
, on Flickr
IMG_20180820_203108
by
Marti Groenhof
, on Flickr
IMG_20180820_203115
by
Marti Groenhof
, on Flickr
IMG_20180820_203234
by
Marti Groenhof
, on Flickr
Already have some of the parts? Use the
Build this MOC
page to only show the parts you are missing.
Waiting for Inventory to load
Please Log In
Sorry, but you need to be logged in to buy these instructions so that you can download them again at any time.
Login
or quickly signup using the form below.
Help Guide - BI File Types