4506 Scarlet sniper & Ghosttail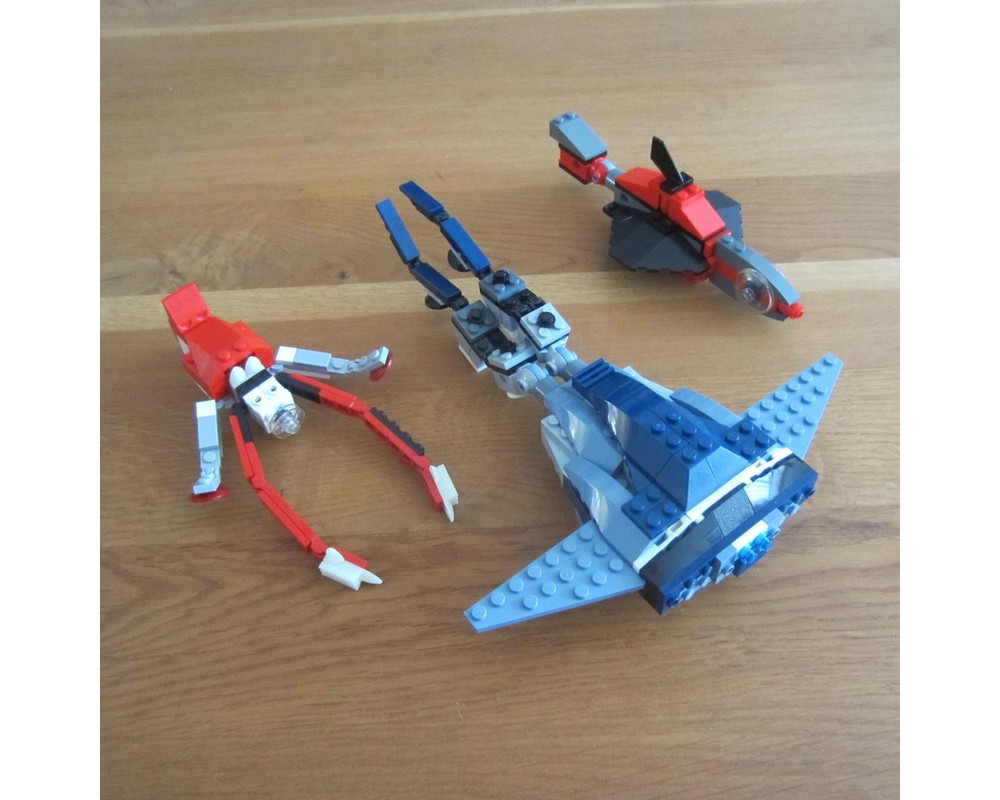 This small model came forth from playing with the large transparent reflectors and what I could do if I put set them up around the four-knob one-brick. I couldn't think of an interesting model but it fitted well with a regular fish body and I didn't want to waste the head, which I liked as a concept. So for once I went for a clear color scheme and a body that would work with the head. The head is not strongly attached but better than this would be very hard to achieve. I called it a 'sniper' because of the nose and because you can detach the tail and the fish would be launched at its target. Just a funny idea with a nice result. It's good to do a simple less complicated model once in a while.

The Scarlet Sniper is a pretty small build so there were plenty of parts left. The Ghosttail is what I made from the plentiful leftovers. I started with the front section, wanting to do something different, and added the large wings, or tails next. I wanted it to have a solid body so made several attempts to combine it with the wings so they would fit strongly enough. I gradually built up the layers on top and finished it off with the bottom side, which took some variations until I was satisfied enough. The twin tails followed a bit later when I reviewed the result and found it alright but thinking it could be improved. The tails were basically made by using all the remaining parts that followed the color scheme and had hinge parts. It is a bit of an odd creature. Without the tail you could make it into a kind of submersible or spaceship. Plenty of flexibility with regard to play. In that sense it makes a good pair with the Scarlet Sniper which also works without its tail.

The third model has no name as I have no idea what kind of sea creature it could be, perhaps some kind of jellyfish, and I can't really think of nice alternate name. I did not really plan for another model as I was just playing with the remaining parts. That I include it in the set is only because I think the model is still decent enough, although it lack real charm.
Already have some of the parts? Use the
Build this MOC
page to only show the parts you are missing.
Waiting for Inventory to load