4506 Terror scorpion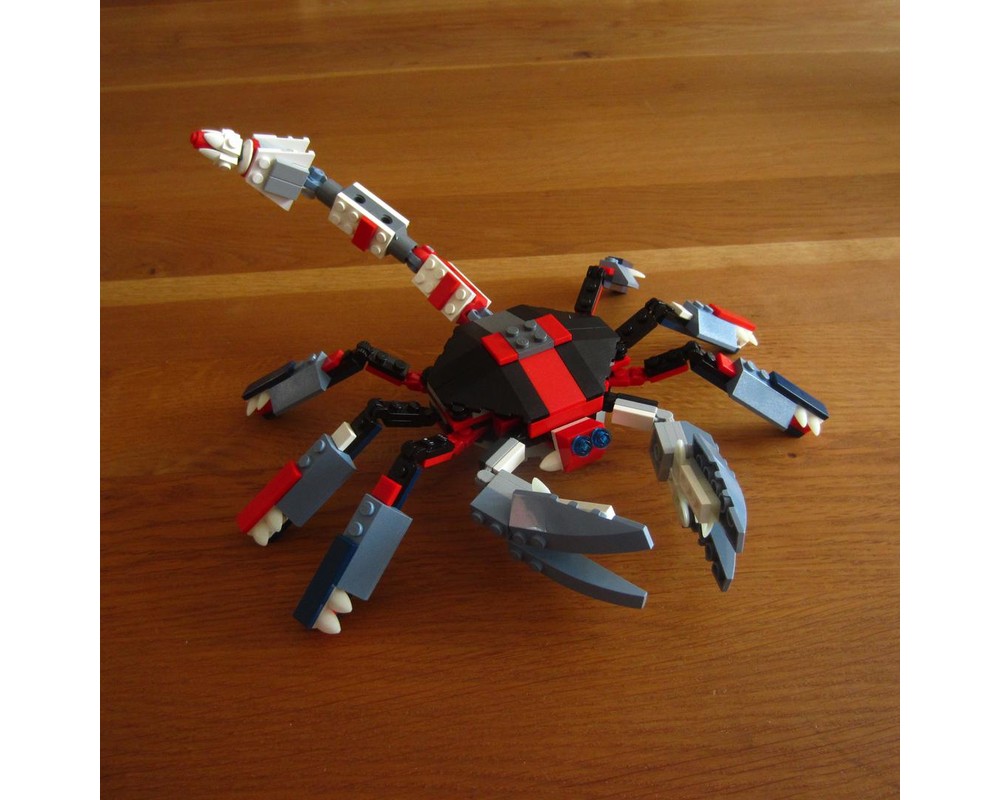 Conceptually a scorpion is a distant cousin of a spider, albeit with a long tail, claws and a more elongated body. Often you will however lack a combination of those elements. Fortunately this set has sufficient parts to pull it off. The only trouble is the body. I like to have the legs in a natural position so it looks more dynamic. This does require a puzzle using the plates to attach them strongly enough while keeping them movable. With the spider I had managed to pull it off so I followed a similar path to make it work for the body of the scorpion. This did mean that it would be a stocky body but then again I haven't seen many official lego scorpions following the traditional shape either. Before I started on the body I wanted to make sure the most striking sections used up the parts they needed. First was the tail, which was easy, and next the legs. I made them a bit larger and scarier than normal, which was because I don't like copying what I did for the King Crab or Monster Spider and always try to invent a different variation. In this case the legs are a mix of both and provide some nice consistency although a solid color scheme is impossible. I actually did the claws last because those mainly need special parts which I didn't expect to need for the body. Although the body may look fairly similar to the Monster Spider the interior is very different. I didn't want such large claws like the King Crab and not the small ones of the Monster Spider. Again I created something in the middle with some fun additions of my own invention, which was mainly done because I simply didn't have the parts I really needed. A scorpion has pretty much nothing of a head, which made things easy as I didn't know how to do something better. Even so, I am very pleased with the result. Despite the stocky body it is clearly a scorpion. While legs may look flimsy the body is now less heavy so the model can actually stand on them, if you refrain from using too much pressure. Perhaps I will try to see if I can do a version with an elongated body, but this one works fine for me.
Already have some of the parts? Use the
Build this MOC
page to only show the parts you are missing.
Waiting for Inventory to load