Hotel porter with a luggage cart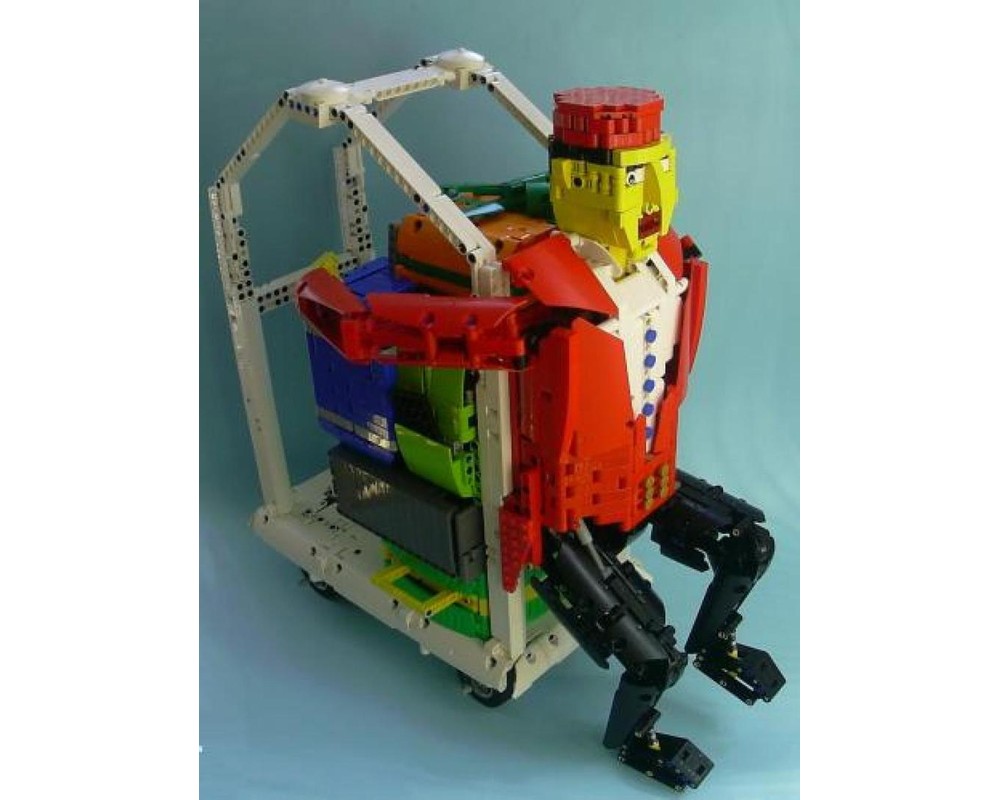 Hello everybody.

I built that strange guy a few months ago. He can:
* breathe all the time,
* walk very slowly with a help of linear actuators,
* speak from time to time.
One L motor does his best but sometimes (esp. when a leg is lower than should be) it's too difficult for him (you'd better have new batteries). The movie below shows what the hotel porter could do. It's my first Technic MOC over 1500 pieces, I suppose that not last. I have prepared an instruction, which consists of four parts: a man, a chassis, a mechanism and termination.

The uncommon thing in that model is the number of colours in Lego Technic creation: I used typical Technic parts (beams, thin beams or panels) in 12 colours (white, light bluish grey, dark bluish grey, black, blue, yellow, bright green, green, lime, red, orange and dark red for the lips), all are visible.

Note that all the light bluish grey bricks except a decoration in a blue suitcase (8 L3x5 beams, 2 fifteen-long-stud beams, 2 five-long-stud beams, 4 six-long-stud thin, beams, 4 pp+ connectors, 2 bushes) are invisible and can be replaced by the same element in any colour. Most of black popular pieces: levers, (+)o connectors, (+)oo connectors, (o)p connectors, p(o)p connectors (where p stands for pin), T-beams are also invisible. All blue halfpins are hidden too, of course, so you can use light bluish grey instead.

There is an experimental part during the building process (steps 400 - 416), a builder has to choose the best configuration of several parts, which manipulate four changeovers and four changeovers endings. With the proper configuration each leg should move up and down with the same range and shouldn't reach extreme positions. That configuration will cause how smooth the mechanism would behave. You will read more in the appropriate steps.

Watch the movie and have a nice lecture of the instruction. I will be pleased if you leave a comment.
Already have some of the parts? Use the
Build this MOC
page to only show the parts you are missing.
Waiting for Inventory to load